BBQ Reds
We might be heading into Autumn but BBQ season is still in full swing. We've pulled together a few of our favourite, budget-friendly reds that pair perfectly with grilled food and are sure to be a hit the next time you have a get-together.

Available from $19.99
Cognoscente is a new label, brought to life by celebrated winemaker Ant Mackenzie and well known wine distributor Jeannine McCallum. Medium-weight and vibrant, it is a good example of juicy, modern Hawke's Bay Syrah that flows easily in the mouth. For wines in this price point, it's always good to see winemakers clearly putting satisfying drinkability before firmness or palate structure, and this is a pretty wine that shines with flavours in the dark fruit and cranberry spectrum. I noted some exotic spice on the finish that was brightened with creamy acidity. The tannins were supple and soft, melding nicely with the fruit component and that lick of fresh acid.
Available from $19.99
This is good wine. Te Awa, which falls under the troubled Villa Maria umbrella, is undergoing some portfolio changes and the highly regarded Single Vineyard series is being discontinued – with the 2018 the last of the single estate merlot cabernet line. It is a classic expression of the modern Hawke's Bay style; a generous and quite fulsome release that fills the palate with an amalgam of spicy dark fruits, with supple tannins and notes of French oak underpinning the conversation. The finish has enough tannin to suggest good cellar potential and those silky tannins partner well with a lovely seam of creamy acidity. 2018 was a good vintage in Hawke's Bay and this wine is only now entering its ideal drinking window. If you enjoy New Zealand Merlot / Cabernet blends and have $20 in your pocket, this would be an excellent choice.
Available from 11.99
Yalumba's Y Series range of well-priced quaffers has long been a favourite at Advintage and the tempranillo has always been a star performer that punches well above its weight. This Aussie take on the ubiquitous red wine of Spain shows an amalgam of red and black fruits with some mocha complexity and a satisfying finish with supple tannins and enough acidity to keep the conversation fresh. Often called 'the blue jeans of wine', tempranillo goes with anything and is suitable for almost any occasion. It's the perfect 'one size fits all' red wine when you want to try something a little bit different, but don't want to ostracise those friends who are traditional Aussie red drinkers.

Available from $17.99
This spicy red wine hails from Chile's famed Maipo Valley, a million miles away from its spiritual home in Bordeaux, where carménère was once widely used to add depth and interest to cabernet sauvignon and merlot dominant blends. Now firmly recognised as Chile's signature varietal, carménère is a full bodied red wine that shares some similarities with merlot, but typically brings funky herbal / tobacco elements to the party, along with a distinct cocoa or mocha notes. De Martino shows all those quirky characters, and this organic wine shows layers of red and black fruits on a silky palate and soft tannins. It's a very appealing, food-friendly glass of wine that will suit a wide range of cuisine. The 2019 is good to go now, and will stay in optimum health over the coming 5-6 years.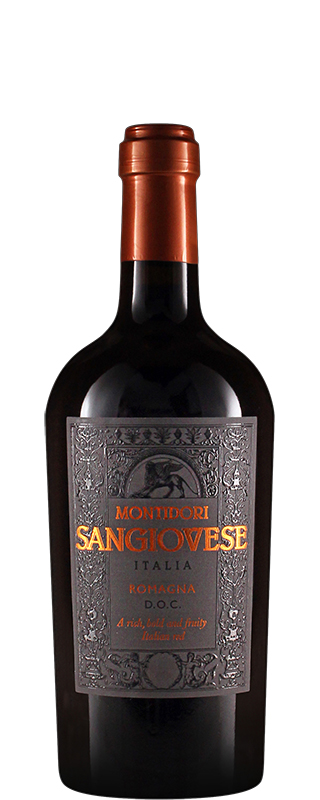 Available from $19.99
Sangiovese is the spicy, middle-weight red wine that is most famous as the main varietal in Chianti. Montidori is produced further north-east from Chianti, in the hills of Emilia-Romagna, and it is a lovely glass of wine. Vinted in a bold and fulsome style by sangiovese standards, the 2020 uses parcels of sun-dried fruit in the fermentation to bring added concentration and depth to the palate. Notes of caramel from those sun-dried fruits sit nicely alongside the dark sangiovese fruits and this wine fills the mouth with flavour. Chianti can be dry and quite tight on the finish but this DOC Romagna release is very smooth and those spicy red fruits and supple tannins just go on and on. It's hard not to love this wine. It's generous and fulfilling without being pushy or overblown, and it is very much an Advintage favourite.

Available from $19.99
The funky 975ml 'squealers' are obviously the first thing to catch your eye here, but the jug-like bottles are backed up with a very solid representation of full-bodied South Australian red. Vinted from organic Monash Valley fruit, this is soft and approachable wine that has been vinted in a generous fashion that celebrates the fleshier side of shiraz. This release is all about fruit forward drinkability, where structure and robust tannins are eschewed in favour of slurpy drinkability. Expect to see some subtle wood spice, flavours of dark blackberry, some mocha hints and soft tannins. Good value at $19.99 for 975ml.